What is Your Body Language saying about your Attitude?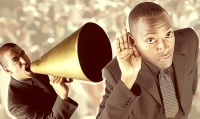 Whatever business you are in, how people perceive you in the first few minutes makes a lasting impression that impacts how successful or unsuccessful you are personally and professionally. This first impression is determined by your attitude, which defines your long term career success and whether you build good business relationships with clients, staff, your boss or customers.
Your attitude determines how well you sell yourself, your product or your service and how you are perceived in the business community. It will also impact how you feel about yourself and how confidently you come across when relating to others in any given situation.
We all have situations where we feel more confident and effective than others and are able to project a positive attitude – usually our comfort zone. However when we are asked to step outside our comfort zone and try something new our confidence and effectiveness can waiver while we feel our feet.
Being Prepared
In the 'Focus Your AIM – body language 4 sales, business & leadership success' course, one of the first things we cover in the 6 step process is 'Being Prepared', starting with your attitude.
If we are unprepared, we are unlikely to create a great first impression it will be a very hit and miss affair. But if we take charge to prepare ourselves mentally, emotionally and physically to ensure we enter any situation with the best attitude and most impactful body language then we will always come out on top.
Everything you think and feel is reflected in your body language for all to see, so you can't hide. Creating the best attitude for your role in any given moment, gives you the edge to be fully prepared to relate, sell, present or give good service.
The Impact of a Negative Attitude
Do you remember the film 'Pretty Woman' - where Julia Roberts visits a high end boutique on Rodeo Drive and is snubbed by the shop assistants who look down on her because of her unique appearance. This superior, arrogant, judgemental attitude cost the shop assistants majorly on lost commission, as Julia Roberts spent thousands of US$'s with another shop who provided a great service, treating her courteously with respect and acceptance.
Well that may have just been a movie, but unfortunately I have seen that negative attitude regularly exhibited via body language in many industries. Where good service and building rapport should have been the order of the day – and it wasn't!
A Negative Attitude is reflected in the body language through:
Hands on Hips
Looking down the nose
Frowning & not smiling
Facing away and continuing with what you are doing
Walking slowly, dragging feet or shuffling
Head down ignoring the other person
Lack of eye contact
Mumbling or high pitch voice tone
Slouching; sitting or standing in slovenly manner
Weak or dominant handshake
Crossed or folded arms, legs
Fiddling with hair, clothes, items
Fidgeting, sniffing, chewing, giggling etc
Hands in pockets
Talking too much, not listening
Now ask yourself (and your staff or team):
What is my Attitude when relating with others? How is this reflected in my body language?
What do I need to add or change to be more effective?
How can I become more effective at building authentic relationships?
What can I do to make the customer's experience a great one?
Negative Body Language Costs Companies Millions $'s in lost business and revenue every single day.
Do you know what's happening in your company?
Do you know the impact negative body language is having in your life?

What are you prepared to do about it right now?

- By Suzanne Masefield, Certified Trainer at the Center for Body Language (View profile)