BLINK Conversation Technique™
Powerful for sales, negotiations and leadership
The BLINK Conversation Technique™ allows you to
get answers without asking questions
How it works?
Our unique conversation technique allows you to gather crucial information during every business meeting, without anybody noticing it. You will receive answers on all your questions, without even having to ask them.
The advantages:
have more to the point conversations
close more deals in a shorter time
a decisive advantage in negotiations
create more understanding with your team
detect lies without anybody noticing it
Applications of the BLINK Conversation Technique™:
During every business meeting there are questions you simply can't ask or where an avoiding or "friendly" answer has been prepared.
A few examples of questions you can't ask:
"Are you the only decision-maker for this deal?"
"How much must we lower our price to get our offer accepted?"
"Are you just bluffing when you say the price is too high?"
"Do you REALLY have no budget left?"
However, receiving an answer on these questions would give you a decisive advantage for you during the negotiation.
With the BLINK Conversation Technique™, you will get answers on all those questions (and every other question you imagine), without asking them.
BLINK is useful for:
Directors, Sales Professionals, Recruiters, Negotiators, Managers, Coaches, Trainers and everybody else who attends business meetings.
Where can you learn the BLINK Conversation Technique™?
You can learn the basics of BLINK in our online Micro Expressions Practitioner Training
The complete 15 modules of BLINK are covered in our Body Language Master training
Contact us to request an in-house Corporate Training
More details about BLINK from our book: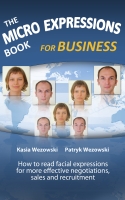 Here is an excerpt from our Micro Expressions Book explaining how this unique technique works:
It's good to have the ability to recognize Micro Expressions and Body Language that can help you to understand what the person sitting in front of you is really feeling and thinking. The next question would be: what can you do with this knowledge? Knowing that the person expresses disgust or anger, when they respond to your question will give you some context of what they experience right now, but still you wouldn't be sure how to respond. Normally it wouldn't be kind to respond to that person directly, "I see disgust on your face when you talk about your previous project. Can you tell me more about the reason for that?"
So what can you do to find out more about the person who expresses a particular emotion? The best solution in this case would be to use the BLINK technique that allows you to adjust your words to what you see on a non-verbal level and to find out more about the alarming moments of a conversation, where there was an incongruency between the verbal and the non verbal response. "BLINK" means "Body Language Interpretations Nominology Know-How". The BLINK technique was developed by Patryk & Kasia Wezowski and is based on a variety of verbal strategies which, in a diplomatic way can help you to explore problematic topics of your counterpart, and which are important from the standpoint of cooperation for the future.
The BLINK technique that we developed helps you to decipher the true meaning of the Body Language that you see or check the accuracy of what you see. With the BLINK technique you can formulate sentences in such a way that it causes non-verbal responses that give you a clue about important issues of your client or a candidate.
The BLINK technique created by us increases the chance of getting real information from the candidate, your client or potential business partner from 50% to 80%. You would need only 10 minutes by using the BLINK conversation to obtain key information on the experience of a candidate or the possibilities of sales of your product or services. The BLINK technique also helps to recognize the true motivations of the team you manage and thus get more understanding of their needs and more effectively pursue common goals.
Demonstration:
Here you can see a demonstration of our BLINK Conversation Technique in front of 2500 people:
Request an in-house Training: