Personal Impact
Personal Impact Mentoring
A Complete System for More Personal Impact
For who?
Leaders who want to make More Personal Impact
Speakers who need to give Powerful Presentations
Business owners who want to increase sales
Sales Professionals who want to belong to the 1% top sales people
Recruiters who want to read candidates like a book
CEO's, Directors and Business Managers who want to lead their teams with more persuasion
Are you one of them?
This complete package consists of a 6 months tailored Mentoring Program, only for action takers who want to make a true difference in their Personal Impact. You will be working directly with the #1 Foremost Experts in the field of Body Language and Facial Expressions. If you identify with any of the groups mentioned above, request a free Mentoring Call during which time we will explain our program details to you.
| A few elements of this program: | Results for you: |
| --- | --- |
| Personal mentoring sessions to optimize your personal impact | More personal impact through mastery of Body Language |
| Regular measurements and feedback on your progress | Measurable proof of your results before, during and after the program |
| Strategic assessment of your business approach | More alignment of your business strategy with your personal communication |
| Supporting you to naturally implement the use of all Body Language "Power Positions" | By using proven "Power Positions" authentically you will be seen as a more convincing and influential leader |
| Developing a personal improvement plan after attending or reviewing your meetings and/or presentations | Tangible results and clearly visible improvement in meetings and presentations |
| Access to our video collection of the top leaders in history and analysis of their non-verbal communication | Discover in detail and immediately apply the same behaviours that made the top leaders in history so effective and persuasive |
| Access to all our online training tools with personal guidance on how to implement them effectively in daily work | Apply scientifically proven methods to be seen by everybody as an authentic leader |
| Stand-by phone assistance to answer your questions when they arise | Easily get feedback and assistance whenever you need it most |
Mentors:
This program will be conducted by Patryk & Kasia Wezowski, Founders of the Center for Body Language, assisted by a few of our Certified Trainers close to your location and our Body Language Expert Partner in your country. All details of the complete program and procedure will be discussed during the first free Personal Impact Mentoring Call.

Patryk Wezowski and Kasia Wezowski - Founders of the Center for Body Language, the World's #1 Body Language Training for Business: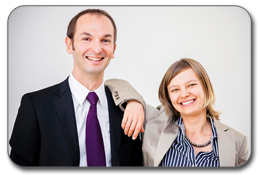 Founders of the #1 Body Language Training for Business
Best Selling Authors of "The Micro Expressions Book for Business" and 2 other books
Celebrity analysis throughout international media (CBS, Fox, Forbes,…)
Creators of the world's first and only Micro Expressions Training with Videos
Founders of the first International Certification standard for Body Language and Micro Expressions Training for Practitioners, Coaches and Trainers
Local Representatives in over 15 countries
Executive Producers of the Award Winning Documentary "Destressed"
International Speakers (speaking at Harvard University, TEDx, Top Conferences...)
Thought Leaders and Developers of a unique Body Language methodology tailored for business people
Request a free Personal Impact Mentoring Call:
Please complete the form below. Only detailed and complete applications will be considered: